Much more than a document manager
Create, validate and classify all your company's documents quickly and with maximum security.
Drag & drop trays (Workflow)
Documents can be moved by dragging them from one tray to another with the mouse (drag & drop system).
Access, insertion, modification and deletion permissions based on document types or attributes.
Advanced document management
Possibility to create links between documents.

The documents may contain annotations  or mark-ups.

The documents have a detailed history of all changes.
Advanced settings with an administrator profile
You can create new document typologies (minutes, certificates, instances, registers…), specific or shared attributes for document typologies.
Simple and advanced searches by content
You can search from the table by attributes or perform an advanced search by content for all entered documents.
Incorporates the Time and Attendance module to comply with time and attendance regulations.
Optimize time and productivity management, avoid labour fraud, comply with labour regulations, simplify resource planning, facilitate the calculation of hours worked, improve data-driven decision-making and promote transparency and fairness in your company.
All within a single solution.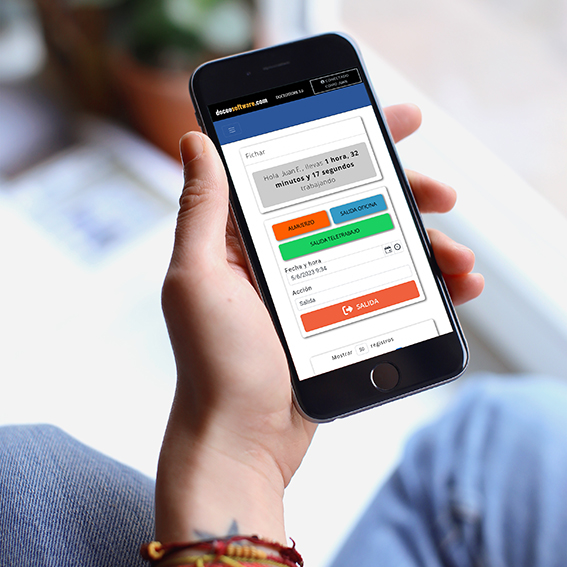 Automatic reception and indexing of documents through our Virtual Printer.
OCR of the documents. Allows automatic data extraction.
Personal and group calendar management with creation of tasks and events associated with documents.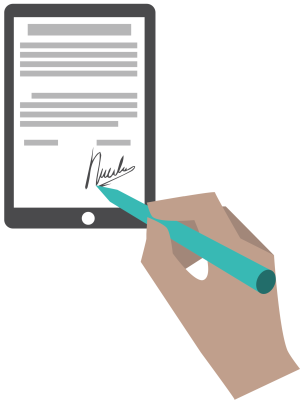 Biometric signature / Double factor
Doceo BioSign is the biometric signature with legal validity that can be integrated into all the document management solutions we offer or, if the customer wishes, integrated with their own system.
Compliance with current regulations (article 26 of European Regulation 910/2014, known as eIDAS).
Saving time and travel when managing any procedure.
Improve your customer experience by being able to sign your documents from the comfort of your device.
All documentation in signed digital format, without the need to print on paper.
Avoid unnecessary access by third parties to personal data.
Greater legal coverage in case of disagreements.
COMPLETE MANAGEMENT OF DOCUMENTATION FOR HUMAN RESOURCES
doceo RRHH is the solution for the management of the documentation of the human resources of an organization.
All the documentation in the same system.
The HR manager will view all the documents that are going to expire.
Workers will receive automatic notifications of incorporated documents that require their approval.
Legal validity of the workers' agreement by biometric signature.
Possibility of adding company-specific documents and defining their behavior.
Automatic sending of documents for every new employee registration.
Direct communication between the human resources department and the workers.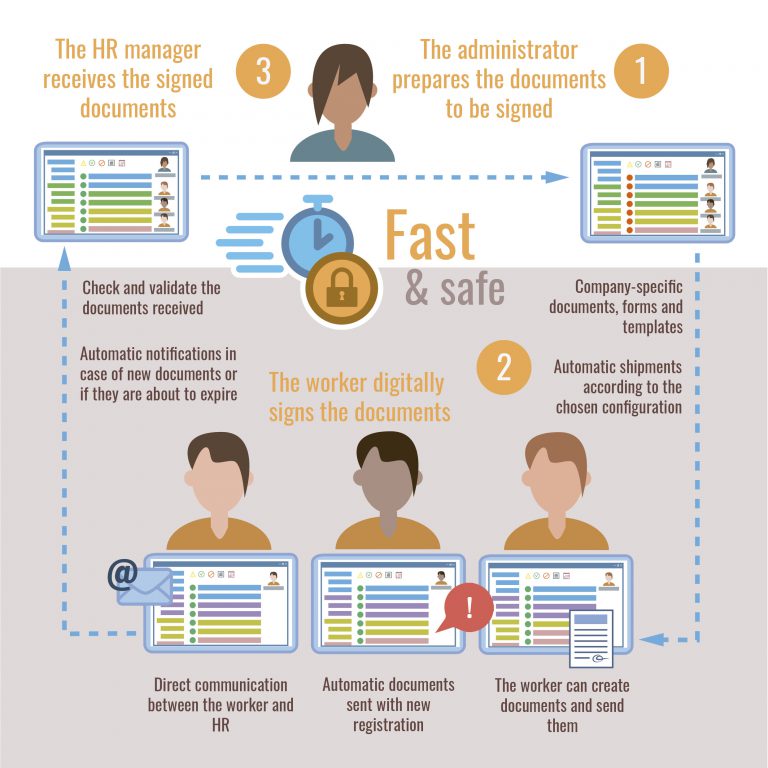 1. The administrator prepares and validates the documents to be signed
The administrator can choose to work with the documents of a specific user, or of all of them.
Control of all documentation and workers from the same system.
Add your own company documents, forms and templates and define the behavior.
Automatic sending of documentation according to the configuration that the administrator configures with each new worker registration.
2. The worker receives and approves the documents
The user receives in his mail the documentation to sign and validate: quick and easy.
Receive automatic notifications to your email if new documents need to be signed or if they are about to expire.
The worker can create new documents; upload, view or edit if the document itself allows it.
4. Receipt of signed and validated documentation
Once the documentation has been completed or signed, it's returned to the company.
The top menu contains icons that show information about the number of documents and their status: pending validation, validated, rejected…
It allows a direct and agile contact between user and administrator in case of doubts or errors.
DoceoSoftware, S.L. participates in the ICEX-Next Export Initiation Programme, and is supported by ICEX and co-financed by European ERDF funds. The purpose of this support is to contribute to the international development of the company and its environment.