COMPLETE MANAGEMENT OF DOCUMENTATION FOR HUMAN RESOURCES
doceo RRHH is the solution for the management of the documentation of the human resources of an organization.
All the documentation in the same system.
The HR manager will view all the documents that are going to expire.
Workers will receive automatic notifications of incorporated documents that require their approval.
Legal validity of the workers' agreement by biometric signature.
Possibility of adding company-specific documents and defining their behavior.
Automatic sending of documents for every new employee registration.
Direct communication between the human resources department and the workers.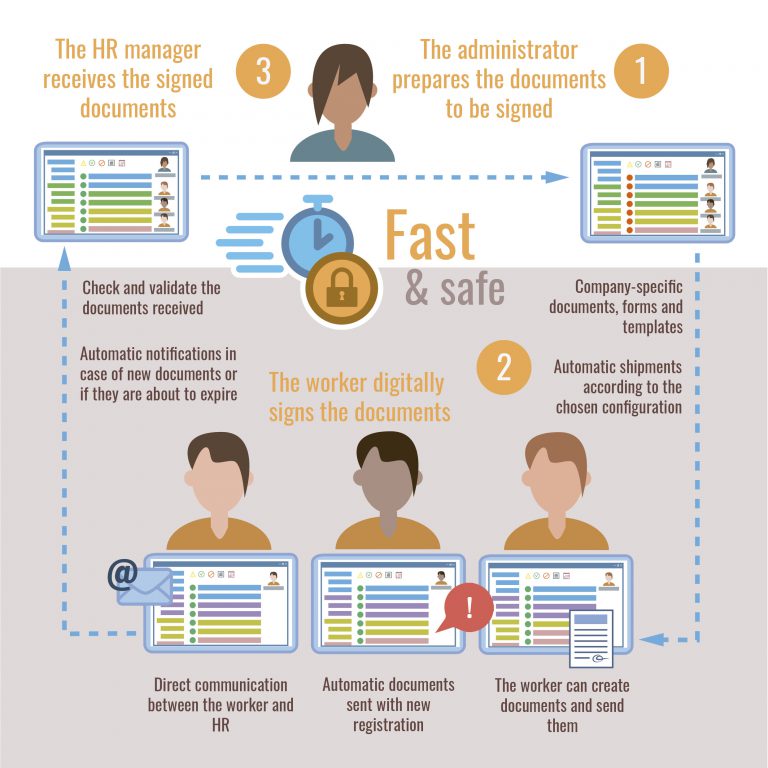 1. The administrator prepares and validates the documents to be signed
The administrator can choose to work with the documents of a specific user, or of all of them.
Control of all documentation and workers from the same system.
Add your own company documents, forms and templates and define the behavior.
Automatic sending of documentation according to the configuration that the administrator configures with each new worker registration.
2. The worker receives and approves the documents
The user receives in his mail the documentation to sign and validate: quick and easy.
Receive automatic notifications to your email if new documents need to be signed or if they are about to expire.
The worker can create new documents; upload, view or edit if the document itself allows it.
4. Receipt of signed and validated documentation
Once the documentation has been completed or signed, it's returned to the company.
The top menu contains icons that show information about the number of documents and their status: pending validation, validated, rejected…
It allows a direct and agile contact between user and administrator in case of doubts or errors.
Do you have any doubts? Would you like to see how it works?
Contact us without obligation to obtain personalized information or to arrange an online demo.